How To Use Amazon PPC – By SellerSEO
Amazon buyers are constantly flooded with too many product choices. Try searching the keyword "baby booties" and you'll find that the search returns thousands of baby clothing and baby care products — baby sleepwear sets, baby bottles, bibs, rompers, etc.
In this sea of products, Amazon sellers now have a way to make their products stand out – Amazon PPC (Pay Per Click).
To help you get started with your first PPC campaign, SellerSEO has created this comprehensive Amazon PPC guide. We wanted to show you the easiest, low- maintenance strategy for creating and optimizing your Amazon keyword and ad spend for higher profits.
A Quick Intro to Amazon PPC
Amazon PPC Strategy 2018 has been a hit. Ask any successful and experienced Amazon seller what their top tools are, and I bet you that PPC on Amazon will be one of the top 3 mentioned.
Amazon's PPC advertising enables sellers to reach a large number of people who are not just trolling Amazon but are looking to buy something!
Here's the good news, they are not just looking to buy anything, but rather, PPC targets those wanting to buy what you're selling. Because it is targeted marketing, Amazon sellers rely on it heavily.
Your Amazon PPC ads will appear in two places:
1. On a search results page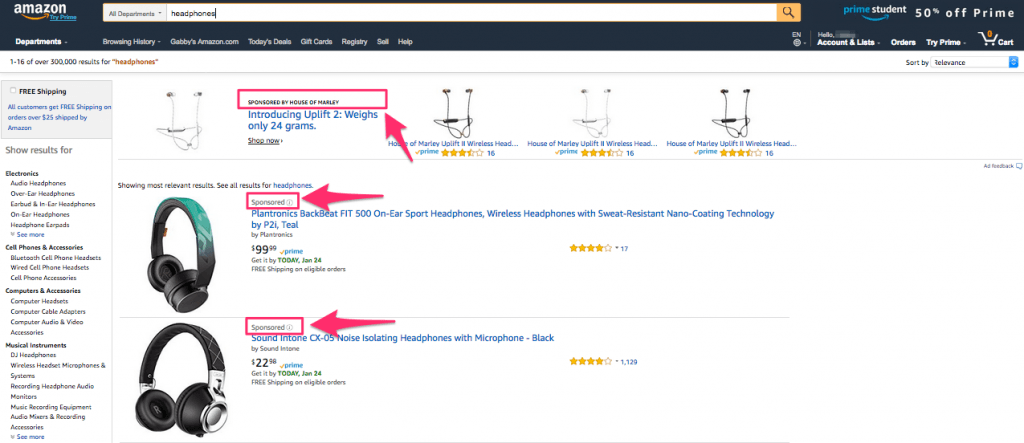 2. On a product page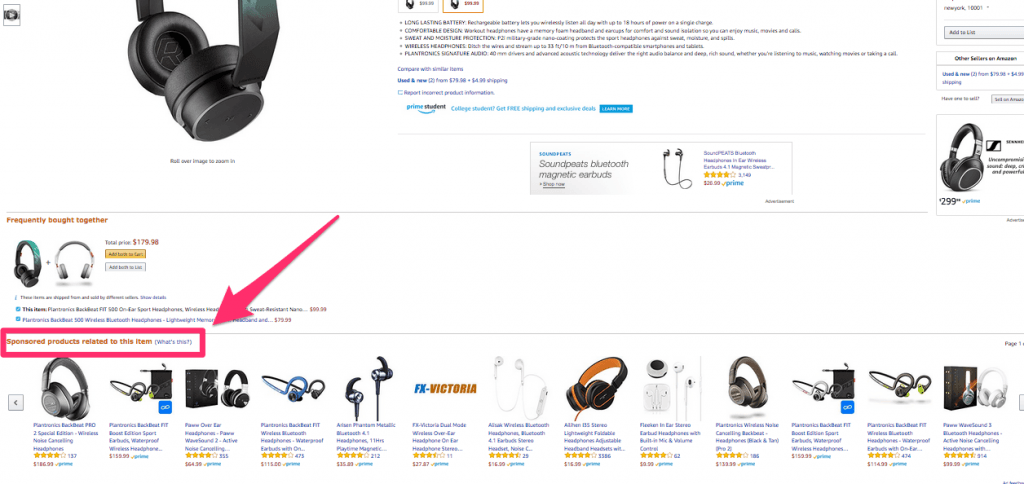 To place your first pay per click (PPC) ad, you'll have to bid on the keywords that you want your product to rank for in search results. Same as any search engine; if you choose the right keywords and optimize your ads, your visibility in the marketplace will be greater. This is an Amazon PPC strategy that most sellers do.
For sellers who can afford to bid higher, it's so much easier because all they have to do is pick any keyword they want and bid high to appear on the first page of the search results. This also means that it will be easier for them to deal with Amazon PPC cost.
The key here is choosing low competition keywords – low competition keywords equal low spend!
Statistically, 70% of Amazon buyers only shop from the first page of search results. So this is a highly sought-after position that most sellers want. Let's walk you through all the steps of setting up your first campaign, then we'll optimize for better visibility.
Set Up an Amazon PPC Campaign in 7 Steps!
Step 1 – Set up the campaign
Set up your campaign name, budget, duration, length, and targeting on the Campaign Manager page.
Name – When naming your campaign, remember that you can create several ad groups in the same campaign. Choose a name that is broad and easy to associate with your ad groups. This is for your personal use and to keep you organized.
Budget – Decide what your monthly budget will be then split it up to come up with the daily spend. It's best to do it this way so you don't lose track of your daily spend.
Length – Make sure you chose an end date for your campaign. If you forget, leaving it open could cause problems. You could end up spending so much more than you anticipated. You can choose a campaign length of one month so that the data gathered from your report will be sufficient for analysis.
Targeting – If you choose "Automatic targeting", keywords will be auto-generated based on the product you plan to advertise. This can be useful if you just want data from customer searches. Manually inputting your target information will enable you to choose the best keywords for your campaign.
Ad group name – Create a name for the group. Use a naming convention that is simple and easy to remember.
Once you're done entering all the above information, click on "Continue to Next Step."
Step 2 – Choose products
Now it's time to choose the products that you want to advertise. You can only choose a single product for each campaign.
Step 3 – Bid for keywords
In this step, choose how much you are prepared to spend on each keyword. This is where things get tricky.
Some keywords are more competitive than others, so by setting your keyword bid, you'll be choosing the number of clicks per day that you will get. For example, if you set your daily budget at $20 and your keyword bid at $2, you will only get about 10 clicks if the keywords cost $2. So be sure to tweak this setting for maximum clicks.
Step 4 – Choose the keywords
Now, it's time to choose your keywords. This is by far the most complicated and perhaps the most important aspect of your campaign. Unless you know what you're doing, keyword research can sometimes be a difficult step. To find great Amazon keywords, grab our free chrome extension on the Google Chrome web store.
Amazon will display some suggested keywords and if you don't have a set of keywords already, you can simply choose one or more of these suggestions.
Click finish and save to finalize the ad creation process. New campaigns generally take up to an hour before you can see them on the search pages. This whole process can take anywhere from 30 minutes to 1 hour. But what if you can create your ads in minutes and not hours? You can use our PPC Dominator tool to do just it with ease.
We created a tool that makes ad creation so much easier and more affordable. You no longer have to waste money bidding on useless keywords. Simply choose profitable Amazon keywords and create hundreds of campaigns in minutes using the PPC Dominator.
Take note that it is also important to learn the Amazon PPC conversion rate. It is essential if you want your ads to run well. Aside from that, it will also help you avoid any Amazon Seller account problems.
How to Optimize Your Amazon PPC Campaigns
Successful PPC Ad Campaigns all follow a certain formula – Create, analyze, optimize, repeat. Amazon top sellers use the following steps in optimizing their PPC campaigns:
Create your ad, analyze reports, optimize the ad based on the analysis and repeat the process. After creating your ad, you will need to give it some time so that there will be ample data for analysis.
Once you have gathered some data, it's time to sift through it so you can see what worked and what didn't!
Why? Well, with this information you can make actionable decisions about your campaign and sharpen up your money-making machine. These are the areas to focus on when optimizing and refining your Amazon PPC campaigns:
• Filter the keywords by ACoS
Some converting keywords produce more sales than others. This is known as Advertising Cost of Sale or ACOS. Reduce the bids or pause keywords with a high ACOS and increase the bids on keywords with a low ACOS. These are your money makers because they convert frequently.
• Filter by Order Numbers
This metric is also important because it helps you determine the keywords that are driving the most conversions. Compare the keywords to the cost of the keywords to determine its profitability.
• Filter the Keywords by Spend
You will also want to know the keywords that you are spending on. Ensure that they are converting and profitable.
• Bids
There are some cases that keywords with high ACOS don't have to be removed or paused. Instead, you can just simply the bid amount by reducing the bid.
• Broad Match
Use this method to trigger your ad for any search query that closely matches your keywords. This is a great way to maximize your spend and only show your ads to other relevant searches.
For ad optimization, the key is to make sure that the ad is bringing traffic to your listing at a profitable cost. So any traffic will not do!
Having problems with your Amazon PPC?  You can use any Amazon PPC management service that fits your business well. One great tool that can help you optimize your ads in one click is "The Rainmaker." With this Amazon PPC optimization tool, you can automate the process and optimize your ad in only a few seconds.
For Amazon Fulfillment matters, you can use Amazon FBA. Also, remember to use Amazon Pay for goods or services on third-party merchant websites or apps!
Patience. You should keep a close eye on the success of the keywords you chose. Collect enough data and use the information to discover profitable keywords or those that need to be trashed. Want to try the best Amazon PPC tool free for 30 days? Try PPC Dominator & Rainmaker now! Pick a plan today!
Amazon PPC advertising can be amazingly effective at generating more sales, but it's very critical to create a strategy that will help you convert your traffic into buyers while making a profit.